Dr Reg and Dr Catherine Hamlin left a legacy to the world through their life's work pioneering obstetric fistula treatment in Ethiopia. Together they perfected surgical techniques that have been recognised globally and continue to save countless lives of women and babies. Through leaving a gift in your Will, you can join us in working to secure Hamlin Fistula's financial sustainability, to ensure the journey to eradicate fistula from Ethiopia continues forever.
Reg and Catherine's Legacy
Dr Catherine planned for their pioneering work to continue long after they were gone, and their legacy remains as Hamlin Fistula today. Your support doesn't have to end on your passing either. Leaving a legacy gift, just like Reg and Catherine, will help us to succeed in our vision of fistula free and safe childbirth for every woman, now and for generations to come.
Leaving us a gift in your Will is one of the many ways you can prevent and treat fistula and other childbirth injuries, as well as rehabilitate and equip women to lead lives of dignity. By letting us know you have included a gift in your Will, we can thank you for your generous contribution in your lifetime and plan effectively for the future.
Help finish what Drs Catherine and Reg started. This pioneering couple changed the world for thousands of Ethiopian women and helped restore their lives to them. Visit our website https://hamlinfistula.org.nz/how-you-can-help/leave-a-legacy/ or contact us today to find out more about how to leave your own legacy, and how your involvement can help prevent fistula and other childbirth injuries for generations to come.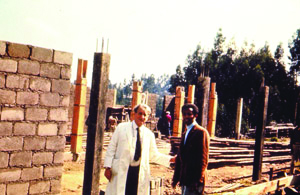 Email: info@hamlinfistula.org.nz
Telephone: 022 043 8091
Address: C/O Hamlin Fistula New Zealand
PO Box 6395
Upper Riccarton
Christchurch 8442