A Young Girl's Life Irrevocably Changed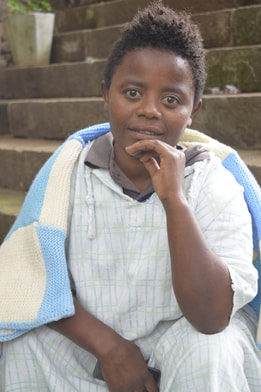 At the age of 13, Dubalech was raped near her home by a stranger. The very active teenager lost confidence and became greatly depressed. She quit school and isolated herself from her friends and classmates. 
After a couple of months, Dubalech had lost her appetite and was sometimes sick with vomiting. Worried about his daughter, her father took her to a nearby clinic where they discovered her worst nightmare. She was 8 months pregnant. "I even had thought of throwing myself inside the river or any other ways of committing suicide [rather] than giving birth from a stranger who had raped me," she explains.
After a difficult labour at home and then a nearby clinic, she was transferred to a hospital by ambulance. Thankfully, the doctors at the hospital delivered a live baby boy. But the tragedy continued. Her immature pelvic bones had caused an obstructed labour, with much damage done. She was left with a strange health problem - a double fistula of urine and faeces and a leg contracture.
The frustration in the family multiplied because of the fistula, and confused to what she should do, Dubalech kept herself isolated with her newborn baby. Weeks after her birth her beloved father passed away, which she still attributes to all the trauma her situation had brought on the family. It was an enormous loss for Dubalech. Feeling alone with no one by her side supporting her, she fell into deeper depression than ever.
Four years went by living with a fistula. When she was finally referred to Hamlin's Fistula Hospital her rectal fistula was successfully repaired, a turning point in Dubalech's life. She returned home with an appointment for the urinary fistula. After her first successful surgery her life started blooming day by day, and became the previous active and hopeful young girl she had been before. Leading up to her next appointment, she started working as a waitress in the small inn of her aunt. She started saving and looking after her son.
Now 19, Dubalech is again at Hamlin Fistula Hospital in Addis Abeba for her second treatment, and her friendly and spirited manner with both patients and the staff is a source of fun in every gathering of patients. Her medication was complicated, and she required treatment to prepare her until she was fit for diversion surgery.
Before her second surgery she told us, "In those days of double fistula I used to feel senseless of living, saying, 'Why should I need to be alive - neither cured from such horrible injury nor getting educated?' But now thanks to this hospital my self-confidence has raised again, and I've started planning my future. In such holistic support as I am getting here, with no doubt my second surgery will be successful and I will get back home in full dignity."​